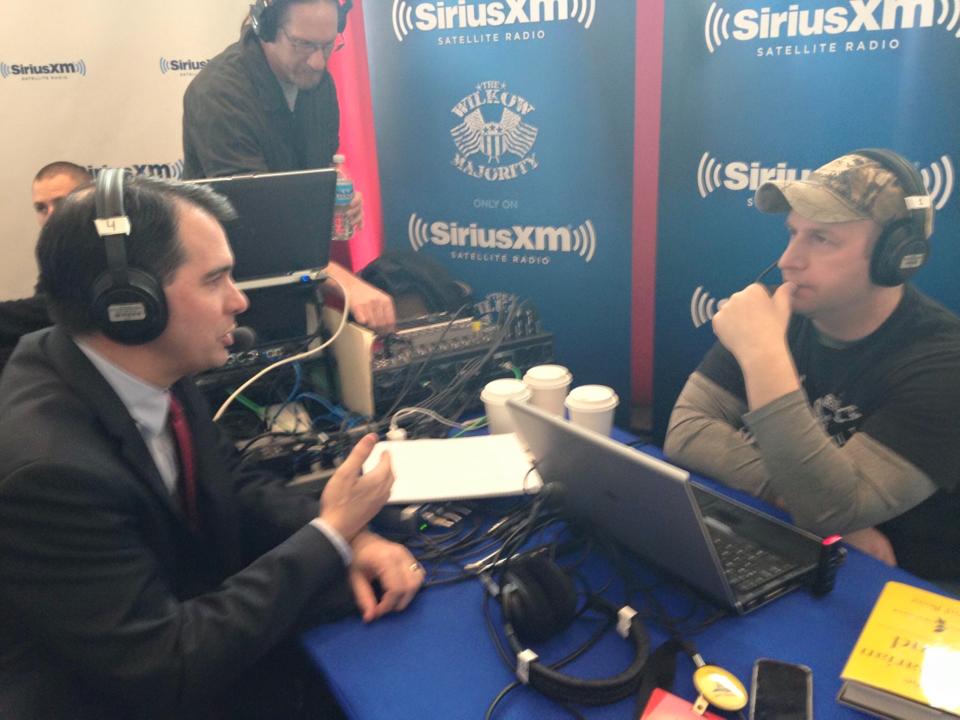 The next generation of great talk radio got his "start" in the 4th grade when he drew radio controls on his loose leaf binder and stuck a pencil in the center to be his microphone. The station "WILK-Oh W" and Andrew's commentary in class was not appreciated by his teacher. In 1990 Andrew became a college DJ at 640-AM WDTU at S.U.N.Y. Delhi in upstate New York. The station was carrier current, which meant it could only be heard on the campus. His first show was a mix of punk metal and what became nineties alternative and whatever "politically incorrect" things Andrew could say or do to get people to call the request line. Within a semester he was the Program Director. Being the PD meant spending more time at the station just keeping it on the air than studying.
In the spring of 1992 Andrew transferred to S.U.N.Y Farmingdale back on Long Island and quickly made his way to the college radio station which was in disarray. The station was also a carrier current station, 640-AM WCTF. When Andrew became PD he began researching student listening habits, making relationships with record companies, staffing the station, training the DJs and airing campus news and events. For his efforts to turn around a chaotic station, Andrew received a tuition stipend from the school. While all of this was happening Andrew became an intern at Long Island's alternative music station 92.7 WDRE. He worked as the morning show intern for Darren Smith (who now programs SIRIUS XMs First Wave 22). His day started with WDRE from 5:30-9am, then going to class, then performing the duties of PD at WCTF, then doing his own radio show in the afternoon.
In the fall of 1993 Andrew moved to Gainesville, FL to attend school at the University of Florida. Andrew got his first chance at FM radio at ROCK 104 WRUF-FM. Initially, doing the overnight shift then weekend mornings before Florida Gator football games, a shift he volunteered for, since everyone else wanted to be at the game. After signing off the radio it was on to work at Larry's Giant Subs. Andrew gave up all school breaks….including "Spring Break" to get as many on air hours as possible, in 1995 he was promoted to nights. As the internet came into play listeners could get all the band info they wanted from the band's website, so began the change from simply talking about the music to developing his talent. His personal politics, were not exactly a welcome thing to the staff at a rock radio during the Clinton years. Andrew graduated in 1996 with a degree in Telecommunications Operations from the College of Journalism and Communications at the University of Florida. The first post college radio job was as a weekender at a Top 40 radio station, Z96 WZNS in Ft. Walton Beach, FL. To make ends meet Andrew DJ'd at local nightclubs including being the DJ and MC at a strip club near Eglin Air Force Base.

In summer 1998 he was hired for his full time radio show at 100.1 WCLG-FM in Morgantown, WV. Andrew moonlighted as a bartender, doorman and DJ at local bars. Again his politics caused friction among his co-workers, something that became part of his radio show. This was the beginning of Andrew becoming a "talker" on the radio. It was an all out battle to get ratings and that's what he got. In the summer of 2000 he was let go after helping move the station's overall position into the top 3 in the market.

In January 2001 Andrew was hired to be the mid-day DJ at Radio 104 WMRQ, an alternative rock station in Hartford, CT. In a cradle of political correctness and liberal thinking Andrew hit a nerve. He made immediate waves with the listeners and instant enemies among the staff. On September 11th 2001 the United States suffered the worst terrorist attack in history. Andrew left the radio station that day to volunteer at the Red Cross blood and supply drive. The program director, Todd Thomas, then freed Andrew to take his shift straight into politics and opinion. Little by little he built an audience and made name for himself in a top 50 radio market. In April of 2002 Andrew took the phone call that changed his life. Phil Boyce the program director of 77 WABC in New York had heard about him and had been listening over the internet.

July 21st 2002 Andrew hosted his first talk radio show ever, at the most listened to talk radio station in America, WABC. The show was a fill in for Mark Levin, when Mark was still doing weekends. Andrew filled in only when Mark Levin needed time off from his show. In September of 2003 Radio 104 WMRQ flipped from Alt Rock to Rap and Andrew was once again out of a job. The station management offered Andrew to 810-AM WGY, at a sister station cluster in Albany, NY, where they had an opening. After a 2 week try out Andrew moved to Albany to host a talk show full time. At the same time Mark Levin was moved to the full time schedule at WABC and Andrew took over his Sunday talk show. This began a weekly cycle hosting on WGY Monday through Friday and of driving 300 miles round trip every weekend to be a host on WABC Sunday mornings.

In the summer 2005 Mel Karmazin the CEO of Sirius Satellite Radio had been driving in a rent-a-car that did not have Sirius. He was listening to WABC when Andrew was doing his show. He made a note "to hire this guy". By December of that year Andrew was in talks to make the jump to Sirius. He signed a contract in June of 2006. "The Andrew Wilkow Show" was launched on Sirius Patriot 144 in August of that year. By early 2007 Andrew realized the show needed a new name that would make a bold statement and "The Wilkow Majority" was born. "The Wilkow Majority" was added to XM America Right 166 after Sirius and XM became one company in January of 2009. The program can be heard live Monday-Friday on SiriusXM Patriot 125. Andrew works every day to make "The Wilkow Majority the most popular program offered by SiriusXM radio, because it's based in one thing and one thing only and that is….rational thought."
In 2012 Radio and TV host Glenn Beck, founder of "The Blaze", offered Andrew an entry into television on his network. For 7 years he did a weekly hard-hitting TV hour focused on breaking news and helping viewers understand what to make of it.

Fast forward to 2022, and "Wilkow!" joins the Salem News Channel video lineup weekdays at 5pm Eastern.